Rachel McAdams' Lesbian Sex Scene and Other Stars' Racy Upcoming Movies
Rachel McAdams
won women over by playing a mean teen queen in "Mean Girls" and tugging at their heartstrings in the tearjerker "The Notebook," but will her female fans flock to see her new movie "Passion," which features the actress in a lesbian sex scene?
The movie directed by master of sex-pense Brian De Palma is making its debut at the ongoing Venice Film Festival, and its two famous female stars' steamy scenes will likely garner plenty of press.
The trailer
makes the movie look like "50 Shades of Grey" featuring two women - there's sex, masks, and someone who desires dominance. However, in "Passion" that someone is a manipulative businesswoman, and it looks like she runs into trouble when her female subordinate decides that she doesn't want to be toyed with anymore. "The Girl with the Dragon Tattoo" actress Noomi Rapace stars as Rachel's lover/rival.
Rachel will also be starring alongside Ben Affleck in another
Venice Film Festival
movie with racy scenes -- Terrance Malick's romantic drama "To the Wonder" features nudity and sex.
But she's the only star pushing her boundaries with racy roles. Here's a rundown of a few other actor and actresses starring in movies with scenes that some might find shocking:
Shia LaBeouf
This former Disney star has revealed that his upcoming Lars von Trier movie "
The Nymphomaniac
" will feature real sex scenes. Shia said that he's "terrified" of filming the flick about a woman who "discovers her hidden erotic desires." It sounds like the "50 Shades of Grey" movie is going to have some competition.
Nicole Kidman
Nicole is also starring in "The Nymphomaniac," and perhaps it shouldn't be surprising that a movie with real sex doesn't scare her - she didn't shy away from urinating on Zac Efron in "
The Paperboy
," after all. In the movie that made a "splash" at Cannes, she plays the lover of a death row inmate, while Efron plays a young man who falls for her. In one scene he gets stung by a bunch of jellyfish, and Nicole's character decides to help ease the pain by peeing on him. Here's what she told
V Magazine
about
the scene
: "I didn't think [it] was that weird, because I was in character... All of that made total sense to me. I just went for it and didn't overthink it." The movie will hit theatres in October.
Helen Hunt
This beloved actress will be returning to movies in "The Sessions," a Sundance Film Festival favorite that featured the "Mad About You" star playing a very controversial kind of
sex therapist
-- as a "surrogate," her character actually sleeps with her patients (and yes, there will be nude scenes). "The Sessions" is actually based on a true story and focuses on the surrogate's quest to help a paraplegic (John Hawkes) lose his virginity. The movie is already getting Oscar buzz, so it's no surprise that it's being released during Academy Awards season on October 26.
James Franco
Shia isn't the only guy starring in a movie with sex scenes that will likely cause controversy. Franco recently teamed up with gay art-porn director Travis Mathews to create an
art film
about the 40 minutes of explicit gay sex scenes that were cut from the 1980 movie "Cruising." The end result will feature graphic gay sex scenes, and the final cut will be revealed sometime early next year.
Leonardo DiCaprio
Leo is also set to bare it all while playing real-life stockbroker Jordan Belfort in Martin Scorsese's "Wolf of Wall Street." According to a set insider, the flick will feature an
orgy
involving four guys and two girls (top that, Gordon Gekko).
__________________________________________________

Leonardo DiCaprio 'impressive during risque shoot'
Leonardo DiCaprio was "very professional" while shooting a scene with naked women for his new movie.
The Hollywood hunk is currently in New York City filming The Wolf of Wall Street. The Martin Scorsese movie features several steamy scenes, including one where Leonardo's stockbroker character Jordan Belfort is entertained by a series of brunette strippers. Leonardo was joined by co-star Matthew McConaughey for the risqué scene, which was filmed at Lucky Cheng's on West 52nd Street.
"The girls were rubbing their breasts in Leo's face. There were five or six of them, but he seemed very professional and looked great in an '80s-style suit," a source told New York Post. "They did five or six takes, more or less the same scene over and over, with girls dancing and rubbing on him."
A set insider claims some of the girls were totally naked at points during the four-hour shoot.
Earlier this week, there was speculation Leonardo may also be stripping off for his role as Jordan, who becomes a motivational speaker after serving time in prison.
"Leonardo is set to bare it all... There will be some pretty illicit sex scenes coming up," a source told New York Daily News.
The Reluctant Fundamentalist
by Mira Nair / Venice 2012 review
Ready and willing to please the masses, Mira Nair opens the 69th Venice Film Festival with "The Reluctant Fundamentalist", a film about contemporary terrorism - a timely subject-matter shot in thoroughly outdated style.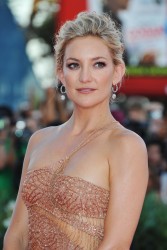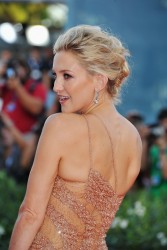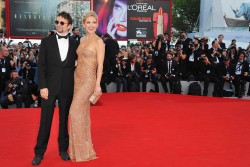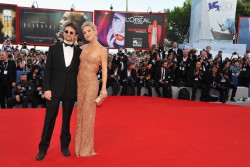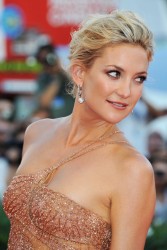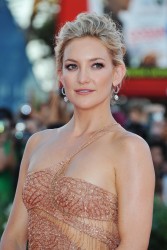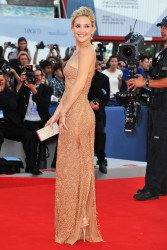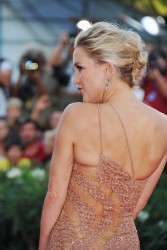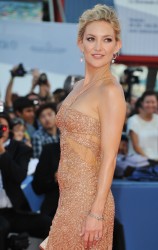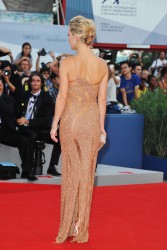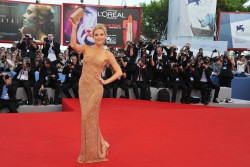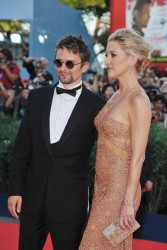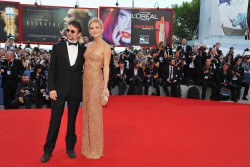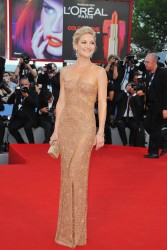 __________________________________________________
Taylor Schilling
to Star in Netflix's 'Orange Is the New Black'
The "Mercy" actress has landed the lead role in Jenji Kohan's new one-hour series.
Taylor Schilling
has landed the lead role in
Weeds
creator
Jenji Kohan
's new Netflix series
Orange Is the New Black.The Mercy star will play the coveted lead role in the project from Lionsgate TV that's based on the book by Piper Kerman.
The one-hour dramedy centers on an engaged Brooklyn resident whose decade-old relationship with a drug-runner in college results in her arrest and multi-year detention in a federal penitentiary. Lacking any real-world experience to deal with this harsh new environment, Piper immerses herself in women's prison culture and finds acceptance, tears, laughter and love amidst an outspoken group of inmates.
Schilling has starred in the 2011 film adaptation of
Ayn Rand'
s novel
Atlas Shrugged
and appeared opposite
Zac Efron
in
The Lucky One.
She last toplined NBC's hospital drama
Mercy
from 2009-10.
Orange
marks Netflix's latest original series, joining the Media Rights Capital-produced political thriller
House of Cards
from
David Fincher
and
Kevin Spacey
, and a revival of cult comedy
Arrested Development.
In June, it was announced that Kohan's
Weeds
will end after the eighth season.
* This is freaking good news. The book itself is shallow self-indulgent memoir of a flaky blonde but adapting into a series is a great idea especially when we have the real possibility of seeing 28-years old Taylor Schilling in the buff. You can stretch out Piper Kerman early life traveling the world with drug-trafficking lesbian lover Nora Jenson. There is skinny dipping scene and living the life in Bali.
[1] "During a trip to Krakatoa we hired a guide to lead us on a hike in the mountains, which were covered by dense, humid jungle growth. It was hot, sweaty going. We stopped to eat lunch by a beautiful river pool at the top of a towering waterfall. After a skinny-dip, Nora dared me-double-dog-dared me, to be precise-to jump off the falls, which were at least thirty-five feet high."
"Have you seen people jump?" I asked our guide.
"Oh yes, miss," he said, smiling.
"Have you ever jumped?"
"Oh no, miss!" he said, still smiling.
Still, a dare was a dare. Naked, I began to crawl down the rock that seemed like the most logical jumping place. The falls roared. I saw the churning, opaque green water far below. I was terrified, and this suddenly seemed like a bad idea. But the rock was slippery, and as I tried in vain to edge back like a crab, I realized that I was going to have to jump; there was no other way. I gathered all of my physical strength and flung myself off the rock and into the air, shrieking as I plunged deep into the green gorge below. I burst the surface, laughing and exhilarated. Minutes later Nora came howling down the falls after me.
[2] Potential sex scenes with Larry Smith the BF.
[3] And of course the stripping scene in the prison.
She indicated a toilet and sink area behind a plastic shower curtain. "Strip." I kicked off my sneakers, took off my socks, my jeans, my T-shirt, my bra, and my underpants, all of which she took from me. It was cold. "Hold your arms up." I did, displaying my armpits. "Open your mouth and stick out your tongue. Turn around, squat, spread your cheeks and cough." I would never get used to the cough part of this drill, which was supposed to reveal contraband hidden in one's privates-it was just so unnatural. I turned back around, naked. "Get dressed."
__________________________________________________
That's How I Roll: Jeffrey Dean Morgan on Magic City
What's going on for Ike Evans in "Magic City?"
That's interesting. I go back to work there, kind of the minute I hang up the phone with you, I'm on my way to Miami and we start shooting next week. A lot of stuff. I've read the first three scripts. Now if you watched last season, we kind of saw my character starting to get into a lot of trouble. I think what we're picking up in season two, my character's in jail and the problems are rising quickly. This season is going to be a lot faster if that makes sense to you. It's going to be really hard on Ike. I don't know if he's going to survive it to be honest with you. My great friend and creator of this show is rather cryptic about where Ike is going other than to say, "You're in a lot of trouble." Things are going south quickly so I'm excited. The more conflict I get to play, the happier I am. I think every episode got better last year and if we start with that momentum on episode one in season two, I can hardly wait to see where we are at the end of the year, whether or not I'm alive.
Would that be a bummer if Ike died in the second season of your new show?
[Laughs] Well, you know, if it works for the story, then I'm okay with it. I like being there because I think television is kind of the new greatest medium, cable in particular. I feel like all the great storytellers are going there and I think our show is a handful that it's just exceptional writing and directing and yeah, it would disappoint me. That being said, I don't know what's going to happen. I know that I'm the lead of this show and if they kill me that would be a whole new show. But, if it's for the better of it, and if it makes the story move and I die, then yeah, I've died on a lot of shows. I'm okay with it.
Read the rest here
__________________________________________________
Venice Film Festival

:

Miu Miu showcases 'Women's Tales'
Italian fashion house Miu Miu has enlisted four female directors to create short films exploring the feminine love affair with the label as part of its 'Women's' Tales series.
BY
Bibby Sowray
Showcased at the Venice Film Festival yesterday, four directors have produced a short film which seeks to explore the womanly love affair with Miu Miu, whilst combining credible filmmaking themes and a strong feminine point of view with fashion.
The four films in the series are: The Powder Room, directed by Zoe Cassavetes, Muta by Lucrecia Martel, The Woman Dress by Giada Colagrande, and It's Getting Late by Massy Tadjedin.
Zoe Cassavete, Massy Tadjedi, Miuccia Prad a , Giada Colagrand, Lucrecia Martel and Maya Sansa at the Venice Film Festival.
Ranging from the weird to the wonderful, the sets are diverse - from Los Angeles to a mysterious ship - but all of the films explore feminine rituals, codes and gestures, each touching on the theme of being a woman.
Miu Miu pieces take a starring role, with the all-female casts in each film kitted out in clothing, sunglasses and accessories by the designer.
Following the wide success of the first four films, Miu Miu will continue to commission further 'Women's Tales' films in the future. All four films from the first chapter of the project can be viewed on a dedicated area of the Miu Miu site, alongside exclusive interviews and behind-the-scenes footage. Watch It's Getting Late below.
Cast includes Gemma Arterton and Aubrey Plaza.
__________________________________________________
__________________________________________________
FrightFest 2012 Review:

God Bless
AMERICAN MARY
Jen and Sylvia Soska's (aka "Twisted Twins") latest effort, American Mary, was dripping with an added layer of anticipation in advance of its world premier at FrightFest on Monday, as news of the film being acquired by Universal Pictures International broke and made its way around the internet the week prior.

Their previous effort, 2009's ultra low-budget grind house effort Dead Hooker in a Trunk, received a decent amount of attention for the identical wonder-duo from their ever-growing cult of devoted fans, who have been curious and eager to see what the women could come up with when given the kind of creative leeway that an actual budget can provide.

American Mary will not disappoint them.

The film tells the cautionary tale of broke medical student turned illegal underground surgeon Mary Mason, portrayed by Katharine Isabelle (Ginger Snaps, Freddy vs. Jason), who was subsequently honored by the festival with their Best Actress award for her performance.


A devoted student whose life revolves around practicing sutures on willing poultry patients in her kitchen, taking heat from harsh professors, and chatting with her Hungarian nana when she can, Mary comes across as both fiercely intelligent and ambitious yet emotionally reserved. Isabelle does a fine job of establishing Mary as a wholly believable character, one whose flaws are measured against enough idiosyncratic mannerisms to effectively humanize her. Further still, Miss Isabelle injects just the right amount of humor and sarcasm into select turns of phrase, a welcome layer of endearing levity for a character who could easily be construed as "chilly." Mary presents differently to different people in different situations, as we all do, thereby enforcing a subtle yet utterly critical underlying tone of vulnerability. While we recognize her strengths, we also recognize her weaknesses.



As a financially struggling student, Mary's initial challenge is one that many can relate to. Her desperate ambition is put on full display during an unlikely (exotic) dance audition for club owner Billy (Antonio Cupo)

, who offers her a sweet sum for a one-off, under-the-table surgical gig instead. Word quickly spreads in underground circles about Mary's skill with a scalpel, and despite some initial reluctance, she takes on a client looking for something far more surgically extreme than anything she would ever come across in school.

After Mary's academic life is permanently disrupted in a horrifying turn of events, she drops out, her path indelibly altered. It is at this point that Mary blossoms into another creature entirely, fully immersed in the strangely seductive and lucrative world of extreme body modification. For the right price, she is a skilled (albeit unlicensed) practitioner, willing to surgically transform her clientele's physiques into the physical manifestation of their dreams. Ultimately, it is Mary who transforms from woe-begotten student to powerful High Priestess, embraced by a community whose unusual flesh-fetish is scorned by the mainstream establishment.

The weird, strange, and often disturbing world of American Mary's body-mod setting is brought to life by special effects wizard Todd Masters, best known for his work on television shows like True Blood and Fringe as well as films like Slither. Remarkably, the movie contains no computer generated imagery, relying entirely on the old-school use of prosthetics and special make-up for characters ranging from the totally unconventional (silicone forehead horns) to cringe-worthy, Real Housewives-esque plastic surgery "victims." Oddly, it is the characters in the latter category who are the most compelling and disturbing to behold, especially when viewed through Brian Pearson's appropriately moody lens.


Supporting characters Beatress (Tristan Risk) and Ruby (Paula Lindberg), two of Mary's sweet and endearing clients, sport ghastly plastic faces that are extreme enough to be both tragic and satiric. Somewhere between grimacing over Beatress' botched (in an attempt to resemble Betty Boop) face and a darkly comic nod to the experimental legacy of Dr. Mengele (featuring Jen and Sylvia in a cameo role), the Soskas offer up a social statement about the potentially disastrous modern perception and preoccupation with physical beauty. Weirdly compelling, interesting, drily amusing yet never mean-spirited, American Mary quietly contains a totally unexpected yet thoughtful commentary that surfaces as a profound, resounding element within the framework of the film.

Like its protagonist, American Mary is not perfect, and my interest did wane at the start of the third act when the question of a possible romantic entanglement arose, a development that did little to enhance Mary's character progression and the overall story. I found myself longing instead for more time with the strange pursuits of the odd yet likable characters who built such great momentum in the first and second acts. Isabelle does a formidable job of establishing Mary as a believable, complex character in an unusual situational arc; the film would have been better served if her inherent psychological conflict was fleshed out (no pun intended) more fully than it was. As a result, the conclusion felt rushed and muddled, leaving me somewhat confused during the climactic final scenes.

American Mary is certainly not the kind of garden variety, over-the-top, white-knuckle, cheap-thrill bloody gore-fest that some audiences may be expecting due to its unusual subject matter. Rather, the Soskas have crafted an experience that is thoughtfully restrained and refreshingly nuanced enough to leave them thinking, instead.
American Mary
__________________________________________________

Courtney Stodden
Duh ... OF COURSE
I'm Considering XXX Offers!
Here's a shocker ...
Courtney Stodden
says she definitely has NOT ruled out any of the porn offers that have rolled in since she turned 18 this morning.
Stodden just called in to "TMZ Live" ... and told us she's been "flooded" with XXX offers from the moment she became "legal" ... and the thought of her getting intimate with another man is freaking out her 52-year-old hubby.
Still, Court says ... "I'm not gonna say yes right now ... and I'm not gonna say no."
We'll take that as a yes.
*

Doug Hutchinson should be outraged. It's time to cut her loose. The dignity and humble way Doug have led his life is in danger of crumbling into dust. The sight of his beloved wife sucking on a eight-incher could precipitate a psychological breakdown for poor Doug. There are plenty of sixteen years old out there
who have severe Daddy issues

, my friend. Yes. Folks have dubbed you creepy and cradle-robbing sleazefuck but you weathered the moral storm with stoic determination knowing nothing beats sticking your grizzled old cock into a tight teen pussy. Her blank eyes staring at you as you huff and puff. Constantly had to tell Courtney to stop calling you 'Daddy'. Sometimes wondering if the chick was really plastic-enhanced 40-years old and the Stoddens are playing you for an old fool. Dump the skank before she takes a dump on you, Doug.
__________________________________________________
MAXIM Australia
Jacqueline MacInnes Wood
[OCTOBER]2011
__________________________________________________
* subtlety at its best.....
Big Boi feat. Theophilus London : "She Said OK"
In the music video for Big Boi and Theophilus London's super risque collabo "She Said OK", director Alexi Papalexopoulos juxtaposed the naughty, naughty lyrics (i.e. "Lemme see your titties") by having the "female in a domineering role and our rappers, our men, in a submissive role." Despite such lofty, gender-friendly aspirations, the MCs end up smoking cigars, playing a little pool, and hanging around with half-naked women for a highly stylized, but totally traditional rap video. Applaud Mr. Papalexopoulos for the gold-star worthy effort when you watch the video below (via Rap-Up.com).
Big Boi's sophomore solo album, Vicious Lies and Dangerous Rumors, is due out November 13th via Def Jam.
__________________________________________________
Jeffrey McCall
:
The bare facts on TV nudity
Unless you attend Prince Harry parties in Vegas or belong to a nudist colony, odds are you seldom see naked bodies parading around as you go through your daily activities. That's why a study just released by the Parents Television Council should concern people who think television should adhere to basic standards of cultural decency.

The study compared the number of incidents of nudity on network prime time during the 2011-12 season to the previous year. There were 76 incidents of full nudity on 37 different shows last season. Only 15 incidents were broadcast the previous year. Sure, the networks blurred or pixilated the most private body parts, but there was no missing what was going on. Nearly 70 percent of the scenes were broadcast before 9 p.m., so there were surely millions of children in the audience. These data don't include animated nudity, partial nudity or suggested nudity.

Compounding these statistics is the disturbing fact that networks failed to follow their own content rating warning system. The PTC reports that the "S" icon for explicit sexual content was displayed on only five of the 76 programs. So much for the warning system the television industry says is sufficient to alert unsuspecting viewers.

Make no mistake; in this situation, television producers are forcing their cultural values on mainstream America. It was bad enough when television created cultural rot with sexualized jokes, gross violence and bleeped foul language. Now the entertainment industry is pushing the boundaries with blurred nudity for no apparent reason other than to shock and show its disrespect for the wide majority of Americans whose cultural values are inconsistent with what the media want to impose. There is no other explanation for a scene from last season's "America's Got Talent" on NBC in which Howie Mandel strolls around naked in front of a guy while deciding which shoes to wear.

Network executives think that blurring or pixilating nudity gives them cover, so to speak. It doesn't. Just as with bleeped four-letter words, viewers can fill in the missing content. The meaning associated with the foul language or full nudity is unmistakable. It is also irrelevant that the actors in these scenes are usually covered partially by undergarments that are erased by special effects technology, giving the appearance of nudity.

Apologists and excuse-makers for the entertainment industry reacted to the PTC study with the same tired explanations designed to exempt television executives from any responsibility. Dennis Wharton of the National Association of Broadcasters said in a published report that broadcasters are "committed to empowering parents with program ratings and program-blocking technologies." Thanks for nothing. Screenwriter Melissa Rosenberg said in an interview that the blurred nudity isn't as bad as "rapes and mutilations and blood" on crime dramas. So, society can't address offensive television nudity because there is gross and inappropriate violence being aired at other times?

Psychologist Bonny Forrest told guest host Laura Ingraham on "The O'Reilly Factor" that "this is all about parenting" and "government regulation is not the answer . . . it doesn't work." Society has provided all kinds of support mechanisms to help parents keep their kids from inappropriate influences. Those regulations aren't 100 percent effective either, but the regulations remain in place. This problem, however, isn't ultimately about regulation anyway. It is about the irresponsibility of network execs.

Other defenders of the status quo simply attacked the PTC as an agenda-driven organization. These network sympathizers excuse producers from responsibility for polluting culture. Sure, the PTC has an agenda, but so do the networks, and the television establishment has much more money and air time to impose its cultural standards.

One must wonder what it is about nudity that broadcasting executives think is so funny and essential to prime-time plots, and why network CEOs won't assert more leadership by telling their programmers to stop this practice.

Theologian and author Father Jonathan Morris wrote in one of his books about the danger created when a society takes a totally subjective or "anything goes" approach to values. Given the content changes we see in the PTC's latest study, network television seems headed in that "anything goes" direction.
McCall is a professor of communication at DePauw University in Greencastle, and author of "Viewer Discretion Advised: Taking Control of Mass Media Influences."
__________________________________________________
One man's trash is another man's…built-in onesie with the socks!
You wear a $50 tee shirt call that getting swindled getting tricked by a business. I wear your grandad's clothes, I look incredible.
But sh+t it was 99 cents!
Never thought I'd jam to a song about shopping at a thrift store. My prediction is everyone is going to shop at thrift stores now. Fuck yea for savings and looking fresh as fuck.
Our new favorite song: green is cheap. And f__k_g awesome so I'm embedding this video HUGE:
Tunes:
http://itunes.apple.com/us/album/thrift-shop-feat.-wanz-single/id556955707
Credits:
VIDEO
Directed By Jon Jon Augustavo, Ryan Lewis, Ben Haggerty
Produced By Hollis Wong-Wear, Tricia Davis, Zach Quillen
Lead Grip: David Herberg
Grip Assistants: Josh Marten, Jay Neilson
Stylists: Annie Murphy, Alex Nordstrom
MUSIC
Written by Ben Haggerty
Produced by Ryan Lewis
Featuring Wanz
Additional vocals by Brooklyn Grinnell
Scratches by DV One
SPECIAL THANKS TO
Goodwill Outlet
Value Village Capitol Hill
Red Light Vintage
Fremont Vintage Mall
Unicorn/Narwhal
Northwest African American Museum
Sara Stapleton, JR Ewing and Inner City Empire, Faisal Jaswal, Clay Davis
__________________________________________________
http://screenjabber.com/hidden-in-the-woods-review
:
However when the timeline lurches forward and the girls grow up the tone seems to lurch into tongue in cheek, a move that is harder to swallow than the end results of the blow job montage the audience is treated to halfway through the movie (yeah, you heard that right, blow job montage). The first thing you will notice is that the sisters become somewhat pulchritudinous, always displaying a great deal of wobbling cleavage, even in the midst of gory carnage. Realism goes out the window, and the actresses look like they could be in a latin version of a Russ Meyer film.
http://www.screengeek.co.uk/reviews/article/frightfest-2012-hidden-in-the-woods
:
The story is actually summed up by a sequence in which the elder daughter turns to prostitution to provide for her family, when the film employs a repellent montage of oral sex that really is difficult to endure.
http://www.thisisfakediy.co.uk/articles/film/frightfest-2012-hidden-in-the-woods/
:
Siboney Lo and Carolina Escobar give strong performances as Ana and Anny, the sisters being raised in isolation by their sexually abusive, mentally-disturbed drug-dealing father after he killed their "whore" of a mother.
This essence of victim blaming and demonisation of men isn't helped by lasciviously filming the half-naked sisters before they are abused, and making Ana a blowjob-giving prostitute to fend for the family.
* Siboney Lo is naturalized American. Tall and quite sexy Latina. She also does unsimulated blowjob in the movie.
Carolina Escobar though wins the boobies contest. Looking forward to catching them in action.
Siboney Lo
__________________________________________________
Crime Inc. Produces Thoughtful, Nuanced Episode About Piracy (Haha, Just Kidding! Cue Scary Music)
Earlier this year, after a series of long and detailed phone calls in which I tried to explain to producers of CNBC's 'Crime Inc.' why the claims about "piracy" were exaggerated, and how conflating physical bootlegging and unauthorized digital downloads was a mistake, we did a filmed interview that took place over a few hours in San Francisco. I had hoped that maybe, just maybe, they'd be able to present the story of copyright infringement with a bit of nuance, rather than the typical "run for your lives! theft! piracy! gangsters!" Unfortunately, it appears that the show went in the other direction and did the cliche and totally bogus storyline that digital downloads are a form of organized crime costing billions. I haven't yet seen the whole program, but judging from the
show's online description and "extras"
along with its
video preview
, this is going to be more of the same garbage:
From the voice-over, scary music, and video clips, this looks like a repeat of what
60 Minutes
put on
a few years ago
. Given that CNBC is (of course) owned by NBC Universal, perhaps that's not too surprising. But I had hoped that maybe, just maybe, they could be convinced to present a more nuanced position. Instead, the video clip clearly presents downloading in the same light as physical bootlegging, claims billions of "losses" and suggests the whole thing is a criminal epidemic, rather than a situation in which a failure by the entertainment industry to adapt is a major part of the problem.
One of the "extras" shows ICE boss John Morton gleefully talking about seizing and forfeiting domain names -- which is odd timing given that just yesterday the feds had to
give back
one of those domain names because Morton and his crew totally screwed up. But don't bet on seeing that in this report.
The show officially airs today (times depend on where you are). I have no idea if any of my footage even made it into the show, but given the positioning of everything shown on the website, it wouldn't surprise me if the points I made about how much of this is exaggerated and misleading don't make it into the episode, or if they do, they're presented completely out of context. So much for trying to bring a little sanity to reporting on these things. I guess reporting on reality, rather than the industry's spin, just doesn't play on cable news.



__________________________________________________

Alicia Gustaferro, 'Wife Swap' Beauty Queen, Arrested On Prostitution Charge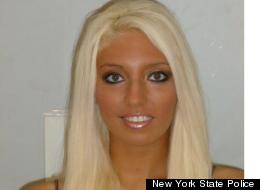 Alicia Guastaferro in her police mug shot.
Alicia Guastaferro, the insufferable teen beauty queen who appeared on the ABC reality TV show "Wife Swap," has been arrested and charged with prostitution.
The pampered princess, whose upstate New York family celebrated Christmas every day of the year, was arrested Monday in the company of a 54-year-old attorney, according to police.
Authorities charged Guastaferro, 20, of Williamsville, with criminal impersonation, prostitution, and possession of a controlled substance. Her alleged john -- Rochester area attorney James D. Doyle -- is charged with driving while intoxicated, patronizing a prostitute and unlawful dealing with a child. The latter charge is for allegedly helping Guastaferro obtain alcohol.
Guastaferro told investigators she was paid to perform sex acts on Doyle, state police said. The attorney denied the allegations.
Guastaferro is a member of a suburban Buffalo family featured in a 2008 segment of ABC's reality television show "Wife Swap." Highlights of the show included Guastaferro, then 16, receiving a new Chevy Tahoe and a daily present under a Christmas tree the family kept up year-round.
"I live a very carefree life where I have no chores," Guastaferro was quoted as saying in the episode. "I have anything I want. It's a great life. I love it." She also said, "I do feel sorry for people that are not gorgeous people."
The teenager received widespread disdain from critics after the show aired. She later
filed a $100 million lawsuit
against ABC and parent company Walt Disney, claiming she was publicly embarrassed and suffered panic attacks and suicidal tendencies. The lawsuit is pending.
According to the
Buffalo News
, Guastaferro is also involved in another lawsuit against Mustang Sally's Spirits and Grill, a company that owns several local strip clubs. The newspaper reported federal court documents filed by Guastaferro contend she worked as a dancer at the clubs and was allegedly denied overtime pay and other compensation.
Guastaferro's parents have had their own problems since "Wife Swap" aired. Her father, Ralph, was imprisoned for money laundering. Her mother, Karen, was convicted of tax evasion.
The latest blow for the family occurred early Monday, at a New York Thruway service area in Pembroke, 30 miles outside of Buffalo. State police said a concerned motorist contacted police after he saw Doyle drive erratically before stopping at the travel plaza.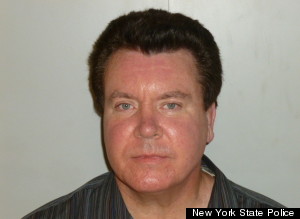 When state troopers arrived on the scene the observed Doyle's car illegally parked, with the engine running and the lights on.
Doyle, according to a copy of the arrest report provided to The Huffington Post, was "slumped over the steering wheel passed out," while Guastaferro was slumped over in the passenger seat. After waking Doyle, the officer observed the attorney to have, "slurred speech, watery/bloodshot eyes and strong odor of beverage alcohol on his breath," the report reads. Doyle allegedly refused to submit to a sobriety test and was arrested on a charge of DWI and other violations.
When troopers questioned Guastaferro, she allegedly gave officers identification for a "Brittany Y. Myers," with a birth date of Sept. 23, 1989. After further questioning, she admitted she was Alicia Guastaferro and was born on Sept. 11, 1991, police said.
According to the police report, Guastaferro told police that Doyle had given her the fake identification and said he had taken her to dinner and purchased alcoholic beverages for her. Upon further questioning, she told police that Doyle pays her $500 to $700 to perform sexual acts and spend the night with him, according to the report.
"$500 to $700 a night? To consummate?" the trooper asked.
"I'm sorry. I don't know what you mean," Guastaferro replied.
"For sexual favors?" the trooper said.
"Ya," Guastaferro said. "We have sex ... He calls me about two times a month."
Asked by the officer if she had been paid that night, Guastaferro allegedly replied, "He pays me in the morning."
The troopers said they found pills in Guastaferro's possession, which she claimed were the antidepressant Paxil and tranquilizer Valium, the police report said.
At some point during her interview she suffered an "apparent seizure" and was transported to Erie County Medical Center for treatment, the report said.
READ THE ARREST REPORT: (Story Continues Below)Alicia Guastaferro


Attorney Herbert Greenman, whom Guastaferro told police is her lawyer, did not return calls for comment from HuffPost Thursday. Calls to Doyle went unreturned.
Doyle told
Rochester's YNN News
on Tuesday that he is innocent.
"I've been accused of allegations that are lurid, salacious and demonstrably false," Doyle said. "I was tired. I wanted to rest and that's exactly what I did. Within 10-15 minutes, there was banging on my window."
According to
The Democrat and Chronicle
, Doyle has two prior convictions for DWI.
Asked by YNN about the allegations of prostitution, the attorney said, "That's absolutely false. ... There was absolutely nothing of a sexual nature with respect to our encounter, whatsoever, at all."
Guastaferro did not respond to a request for comment from The Huffington Post.
Unhappy couple: Guastaferro is married to Scott Kleveno -- though they separated two months ago after he claimed she began sleeping with clients at his strip club
Her estranged husband, meanwhile, tells
TMZ
that Guastaferro has been working as a 'dancer' and has a habit of going home with her customers.
'With her not coming home on several occasions, the prostitution arrest is no surprise to me,' Scott Cleveno, a Florida strip club manager, told the news site.
The couple married in November at Niagra Falls, though they separated two months ago.
Guastaferro was a passenger in defence attorney James Doyle's car when police were alerted to his 'erratic' driving in Rochester, police say.
Deputies gave chase and eventually caught up with them at a service area, with Doyle slumped over asleep at the wheel.
He was arrested and charged with DWI, patronizing a prostitute and giving alcohol to a minor, adding to two previous drunk driving charges which each ended in convictions to the lesser charge of driving while impaired, according the
Rochester Democrat and Chronicle
.
Trouble: Alicia Guastaferro is married to a strip club manager -- though the two separated in August

__________________________________________________
I've had sex for money

:
Sherlyn Chopra
Sherlyn Chopra
is out with some controversial stuff.
Sherlyn Chopra took to Twitter to silence all those who were contacting her on Twitter for having paid sex.
She tweets "I've been receiving contact numbers on my twitter handle n on contact@sherlynchopra.com of those who wish 2 enjoy physical intimacy with me at a price...."
"In the past,on various occasions,I've had sex 4 money...out of all my past experiences of paid sex,there's not a single one that I remember having indulged in out of free will.... but ever since,I got back from LA in July this year,there has been a shift in my level of consciousness.......I now understand that I cannot claim to be 'free' and continue to make choices n decisions under obligation...."
Miss Chopra wrote that she enjoys been bold "I enjoy being bold...I enjoy oozing sexuality in still pictures n in moving visuals...I enjoy being a tease...I enjoy sex when.......it is the end result of an uncontrollable lust n/or attraction....Sorry to disappoint you but I'm no longer available for paid sex....why?.."
"b'coz I've come to realize that I derive no pleasure or joy out of physical intimacy that is pursued out of ......obligation(mental/emotional/financial or any other kind).......I now believe that there is in infinite power n infinite intelligence within each one of us and if we persist in having a child like faith...n a child like belief in the powers of the Spirit/the Subconscious Mind,then there shall be no lack of tangible n intangibles riches in our lives." She concluded.
We agree, Sherlyn that you enjoy being bold and show off ur sexuality buy seen your Playboy pictures that you have posed on Twitter in the month of June. But after the above statement made by Miss Chopra it is clean now that she use of have paid sex and now she is no longer available for the same, so guys stop contacting her on Twitter.
__________________________________________________
Girls under 30: Sexy, raunchy and famous
Have a look at the under 30 crowd of Bollywood girls who have made it big in terms of money and fame.
Gone are the days when success meant saree clad mature women in their late thirties who had struggled in their youth for their current status. Times have changed and under 30 crowd of achievers has suddenly swelled. Bollywood itself boasts of at least a dozen damsels who are in their early twenties and have achieved everything in life-name fame and money. Have a look at the sexy dames who have made it really big and how!

Poonam Pandey:
Blame it on Twitter, blame it on cricket or blame it on her craze for limelight, 21 year old Poonam Pandey suddenly became a household name, the moment she declared she would go nude if team India won the World Cup. Since then her raunchy talks and hot photos that she keeps tweeting have managed to keep her in news and have also fetched her Bollywood acting assignments.
Sherlyn Chopra:
What Bigg Boss and Twitter could not do, Playboy did. 27 year Sherlyn Chopra, the hottie who seems to hate clothes, finally decided to shed them for Playboy magazine and look what she got! Money and lots and lots of limelight!
Veena Malik:
This 28 year old Pakistani actress and model in the 10 years of her career has worked in both India and Pakistan as a model, as a talk show host, as an item girl and as a film actress. Her raunchy acts and controversies keep her in news.
Sonam Kapoor:
Being a star's daughter has not helped this 27 year old dame as much as her being a fashionista has. Sonam Kapoor's most films has not done very well on box office, but you can always blame it on luck as she is regarded among the top rated female actors . She charges around Rs 50 to Rs 75 lakh.
Sonakshi Sinha:
At 25 Sonakshi charges Rs 75 to 1 crore per film and has worked successfully with top actors like Salman and Akshay.
Anushka Sharma:
She says she doesnot believe in the number game and she also doesnot have many hits to her credit, but Anushka has managed to carve her niche in Bollywood at mere 24 years of age. She charges Rs 1 to 1.5 crore per film.
Deepika Padukone:
She is hot, sexy and free. She doesn't mind shaking a leg on suggestive songs or doing the role of a 'not so good' girl. Deepika at 26 is one of the leading actors of Bollywood and she is popular with the youth and is a fine actor and dancer. She charges Rs 1 to 2.5 crores per film.
__________________________________________________
Porn Star Tasha Reign's Secret Life as a UCLA Student
From porn star to UCLA women's studies major
"What is sex?" the professor asks her class, deadpan, on a hot August day.
The room is quiet except for the steady tapping of a nervous foot, belonging to a tan blonde. It's the first day of class -- summer session at UCLA. The students in "Sex and the Cinema" are a mix: curious female underclassmen, perplexed Asian foreign-exchange tiger children, a back row of overly excited young males in backward caps and board shorts.
Three groups, and then one person who breaks the mold. The blonde.
Rachel
. Her hair is in pigtails, one hand wrapped around her rhinestone-encrusted iPhone, the other fingering her pink pen. She fidgets and she giggles, her light green eyes glancing from phone to professor constantly. She stashes her Louis Vuitton bag below her desk, tucks her feet under her petite frame and curls up in her seat.
The prof, Jennifer Moorman, says the class will focus on film's relationship with sex, from cinema's early black-and-white days to today's adult industry. Nothing is off limits.
"This is so cool," Rachel coos to herself.
"What is sex?" Moorman asks again.
"Penetration," answers a brave dude in the back row. The class snickers.
Moorman nods and repeats the word. "What else?"
"Intercourse," says a girl who looks like her experience has been limited to reading 50 Shades of Grey.
"Technically, intercourse and penetration can be a variety of orifices," Moorman clarifies.
Rachel can barely control herself, a devilish smile painted ear to ear.
"Is kissing sex?" Moorman prods. The class can't decide. "Whether sex is a positive or negative thing, frequently women being sexual is viewed as bad," Moorman declares.
"I'm a bad girl," Rachel says under her breath.
Is she?
At UCLA, she's Rachel. (Just Rachel -- she prefers that we not use her last name.) A few miles north, in the Valley, she's Tasha Reign, the adult starlet and Penthouse Pet who's made a name for herself by starring in more than 50 films in a little more than a year.
In late May her name got even bigger when a photo of her with Bill Clinton went viral. The former president had been the guest of honor at a benefit in Monaco, and he took photos with all his guests. One of them just happened to be Rachel, who was on the trip with Marc Bell, CEO of the company that owns Penthouse, his girlfriend and adult starlet Brooklyn Lee.
"We were invited to go to Prince Albert and Bill Clinton's gala," she explains over mac 'n' cheese in June. Her table donated more than $100,000; all proceeds went, via the heavy-hitters' foundations, to the environment. "When I was in high school, I was in Model United Nations, and I always was interested in sustainable resources. I'm a vegetarian. I try to live green. This is something I'm actually interested in."
She'd never met Clinton before that night. "There were a million gorgeous models there; it's not like we stood out in the crowd by any means. He probably thought, 'If these girls want to take a picture with me, they're probably donating so much money, I better take a picture with them.' Why not?"
But when Bell's girlfriend tweeted the photo, everyone saw Tasha the porn star, not Rachel the student. Hucksters teased that old rascal Bill was up to no good again -- surely he must know the identity of the busty blonde at his arm.
"I didn't even think for one second it would be controversial," Rachel says. "Then all of a sudden, there's, like, all of these retweets and retweets and it's trending."
Instead of enjoying her newfound notoriety, Rachel believes the photo damaged her reputation. She wants to be known for her work on-screen, not (faux) scandal.
"Everyone's like, 'This should be cool for you, it's PR, everyone knows your name.' I would never want that negative type of press," she says. "I'm so proud of the movies that I make, and the scenes that I do and the pictures that I take; I don't want any guilt by association and be put in some negative light."
She adds, "I think of myself one way, and other people think of me another way, and there's a reality of the situation, and I haven't figured out either of the other two."
Tasha went on Inside Edition and TMZ to clear the air. Rachel, meanwhile, headed to Westwood to speak to a UCLA psych class about the adult-film industry. The professor contacted her after reading an article about her in The Daily Bruin.
It was Rachel's first time speaking in front of a crowd, and while she was nervous, she wanted to explain her reasons for getting involved in the business -- none of which had to do with the cliché of abuse or drugs.
"The hardest thing about working in the adult industry isn't the industry itself, it's the stigma you have to deal with when you are outside of the industry," she told the class of 30. She plans to start lecturing more this fall at UCLA and other schools.
"I feel like I'm affecting people," she says.
As a high school junior in Orange County, Rachel was a cast member for a season of MTV reality show
Laguna Beach
. Even then, she knew she wanted to be in the adult industry. Now 23, she owns her own production company and writes and directs most of her material.
Her family supports her choices, she says.
"I think they accept me for who I am," she says. "I live in the now."
Now is majoring in women's studies. She enrolled at UCLA in 2010, transferring from Santa Monica College.
As "Sex and the Cinema" draws to an end, Rachel approaches her new professor and invites her to watch a porn shoot. Professor Moorman accepts. Bubbling and happy, Rachel floats out of class, only to be stopped by one of her classmates. He wants to take a photo. She accepts, knowing this photo won't have as long a shelf life as others.
Skipping along in her sandals, backpack bouncing, she runs off to her next class. Can a person be normal when they're paid to have sex on camera? Both Tasha and Rachel say yes.
Accompanying Article
__________________________________________________
__________________________________________________
You have read this article Jacqueline MacInnes Wood / Katharine Isabelle / Magic City / Margot Robbie / Rachel McAdams / Taylor Schilling with the title August 2012. You can bookmark this page URL http://duk78.blogspot.com/2012/08/stars-sex-and-nudity-buzz-08312012.html. Thanks!